Webinars
During the academic year, the Master of Engineering Management Program leverages the expertise of our alumni and faculty to create webinars on topics relevant to technology, innovation, and management. Webinars are just one example of the way Northwestern's MEM program prepares its students to stay abreast of timely and emerging topics in the field of engineering management.
Upcoming Webinar
Topic: The Innovation Journey from Product to Ecosystem
Speaker: Mark Karasek, Executive Vice President of Engineering and Chief Technology Officer of The Chamberlain Group
Date and Time: Wednesday, March 13, 2019 at 5:30 p.m. CDT
Location: 2311 Campus Drive, Suite 1400, Krebs Classroom
Overview: Value in many market spaces is moving from products or services to ecosystems of product, services, and partnerships. As a result, product companies are wrapping services around their products and service companies are productizing. This evolution of the drivers of value creation is forcing companies to rethink their innovation strategies and toolsets.

This webinar will walk through the lessons learned in one company's journey from product to ecosystem.
Biography: Mark Karasek is Executive Vice President of Engineering and Chief Technology Officer of The Chamberlain Group, a privately held corporation with 5000+ employees worldwide and a global leader in the Access and Security markets. The company delivers innovative connected products and services in the residential and commercial garage door opener and vehicle access categories and is a recognized leader in the emerging IoT space.
Mark has led innovation at Chamberlain for almost 20 years and has managed an active intellectual property portfolio. He has been a key part of the leadership team that has transformed the company from a consumer and commercial durables manufacturer into a connected ecosystem leader. He has extensive experience in the toolsets of innovation including stage-gate, agile and lean start-up. In Spring, 2019 Mark will be teaching the Organizing for Innovation course for the Northwestern MEM Program.
Past Webinars
Topic: Network Forward to Connect with your Future Employer
Speaker: Randy Hlavac, CEO of Marketing Synergy, Inc.
Overview: Every day, engineers are forming communities to discuss engineering and engineering management topics and they are looking for influencers - engineers who know cutting-edge information - to help them in their careers.  In this talk, Randy Hlavac will give you tools and tips to allow you to connect with virtual and actual engineering communities, key executives in your desired field of engineering, and the influencers who are discussing trends and important topics.  He will show you can use social media to grow a follower base of executives and engineers you need to know.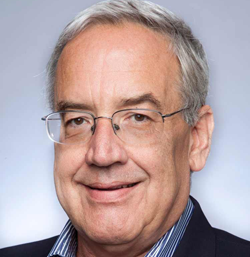 Biography: Randy Hlavac is a lecturer in the Medill IMC department and teaches Digital, Social and Mobile Marketing. He teaches his classes to use the most sophisticated social monitoring and management systems while building actual social and mobile marketing strategies for companies throughout the world. Hlavac is also a faculty advisor for Vitamin IMC and is the director of the Medill IMC OmniChannel Initiative, which trains students to market in a real-time world.
Outside of Northwestern, Hlavac is the CEO of Marketing Synergy, Inc., a consulting company dedicated to helping organizations improve their strategic and tactical marketing programs using the advanced analytics necessary to market in today's real-time engagement world. Hlavac is a member of IBM's Academic Initiative and has been selected by IBM to discuss social marketing strategies at IBM eCommerce, Big Data and other IBM summits. Randy also speaks on marketing topics at conferences and summits throughout the world.
Topic: Small Startup, Big Global Impact
Speaker: Katie Kollhoff, CEO of NUMiX Materials, current MEM Student
Topic: Opportunities in Analytics
Speaker: Plamen Petrov, Director of Cognitive Technology, KPMG LLP
Overview: In this webinar, you will learn about current trends in the adoption of Artificial Intelligence and Advanced Analytics across enterprises and their impact on intelligent automation and digital transformation initiatives in different industries. One specific area discussed will be the evolution of Intelligent Automation from Robotic Process Automation (RPA) fueled by Advanced Analytics and Artificial Intelligence. Participants will also learn how these trends will impact the required labor skills and job opportunities in analytics.
Biography: Plamen Petrov is Director of Cognitive Technology, KPMG LLP based in Chicago where he works on applying advanced Artificial Intelligence and Data Science techniques to drive business transformation within KPMG and at KPMG clients. Plamen has the role of Lab Director for the dedicated Intelligent Automation Lab within KPMG Ignition, working with a team of highly skilled resources that utilize leading tools and approaches to build AI solutions. Plamen's work focuses on areas such as Natural Language Processing, Probabilistic Knowledge Representation and Reasoning, Machine Learning, Data Science, Cognitive Architectures, and other advanced technologies and methods.
In addition to his deep technical expertise, Plamen is a seasoned executive who has held executive leadership positions including CTO, Chief Enterprise Architect, executive director and managed advanced technology organizations at different companies and industries. Plamen has an extensive experience in industry and academia, having worked in different roles at companies such as IBM, Deloitte LLP, Blue Cross Blue Shield Association, United Airlines, Sun Microsystems, Motorola, Cincinnati Bell, and the Institute for Technical Cybernetics & Robotics. Plamen holds a Ph.D. in Computer Science from the University of Illinois at Chicago specializing in probabilistic reasoning and Bayesian Networks and a Master of Engineering Management degree from Northwestern University.
Topic: Skills Needed to Survive Product Management in Tech for the Next Ten Years

Speaker: Birju Shah

Overview: Product management is an adrenaline-filled exciting role at companies. You are in charge of the vision of launching a product, gaining traction, making revenue, and scaling for dominant market share. PMs usually get all the accolades when a tech product is successful, but also get all the failures and finger-pointing as well. This webinar will talk about my experiences as a PM for the last ten years in the valley, the peaks and valleys, and what technologies you should start learning to survive the future software product landscape. 
Topic: TRIZ – The Theory of Creative Problem Solving
Speaker: Dan Heck, Principal at Bluefuse
Overview:  Our affinity for engineering comes from our love of right answers. The challenge for engineers is that the disciplined applications of known knowledge are just the wrong processes and mindsets required to solve unknown problems. Why do some engineers and scientists think so much more radically than others? Why are most inventions incremental and boring, but about 20% are blockbusters or paradigm shifters?
 
Attend this webinar to learn about TRIZ – the theory of creative problem solving – and how it is taught and practiced around the world. 
Topic: Five Shifts from Traditional to Agile Management
Overview: In this MEM webinar, presented by MEM Industry Advisory Board Member Jay Stanton Goldstein, you will see how leading companies get beyond the rigidities of traditional management and acquire the breakthrough capabilities involved in making the entire organization agile. Based on The five shifts necessary for an agile transformation, you will get an introduction on how to implement the elements of radical management as an integrated whole so as to get extraordinary results for your organization, your customers and your workforce.
Topic: Engineering Management 101
Speaker: MEM Director Mark Werwath
Overview: As you grow in your career as an engineer and you strive to get into upper management - how can you best prepare? Learn from Northwestern's MEM Director, Mark Werwath, as he highlights key learnings from his 30+ years in industry and how a MEM degree is a key asset in today's rapidly evolving technology-based business climate. Discover how a new manager requires the need to balance multiple responsibilities that now include financials, hiring, employee development, payroll, innovation, strategy - and not to mention the expectations of your client! This webinar will be approximately 30 minutes and include a question & answer session with Director Werwath.
Topic: Grow Your Professional Engineering Network - NOW!
Speaker: Professor Randy Hlavac
Overview: Today, technology is driving business, marketing and engineering. To keep up with the disruptive change facing engineers and the companies that employ them, it is vital to have a professional network of experts and thought leaders in the areas important to you. In this 45 minute webinar, Randy Hlavac – a professor of business and marketing – will give you the tools and knowledge so you can begin growing your professional network starting tomorrow. He will show you how to identify the key influencers in any industry you want to develop, how to engage with them, and how to use them to help you find employment upon graduation. Get ready for a fast paced discussion of how to build a professional network you can use throughout your college experience and beyond.
More in this section